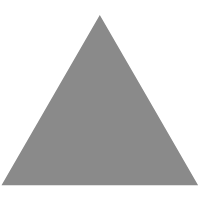 0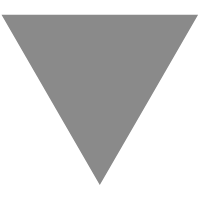 A Simple Guide to The Best Blackletter & Gothic Fonts
source link: https://blog.youworkforthem.com/2022/09/25/a-simple-guide-to-the-best-blackletter-gothic-fonts/
Go to the source link to view the article. You can view the picture content, updated content and better typesetting reading experience. If the link is broken, please click the button below to view the snapshot at that time.
A Simple Guide to The Best Blackletter & Gothic Fonts
September 25, 2022
---
When we think of medieval writing, Blackletter is what most of us will envision first. Modern blackletter fonts can still be found everywhere, from bottles of Corona to newspaper headings like The New York Times.
In truth, blackletter fonts are among the oldest still in use to this day. The script emerged somewhere around 1150 and it was originally developed as an easier-to-write substitute for the much more labor-intensive Carolingian Minuscule. Also known as Caroline Minuscule, Carolingian was the standard for calligraphy throughout Europe, and had been for quite some time. The problem was, around the mid 12th century, books were being printed in subjects of all kinds, further perpetuated by the establishment of new universities throughout Europe.
Carolingian was lovely, legible, and familiar, but its large size not only took up more page space during a time when printing materials were expensive, but it was a bear to produce in a timely manner. Blackletter became the more fitting replacement; it was a type style that could be written and reproduced in a much quicker fashion to meet the demand for books in that era.
Popular Blackletter Fonts Historically
Several distinct forms of Blackletter emerged over the next few hundred years, however, four main families took center stage.
Textualis, also known as Textura, is the style that we usually associate with the term, "gothic." Textualis is the most calligraphic style of blackletter, featuring characters that are tall and narrow, with straight angular lines that are sharply drawn. This style was most often used in France, England, and Germany throughout the 14th and 15th centuries. Eventually, as type design evolved, the use of Textualis became obsolete, in no small part due to its legibility (or lack thereof).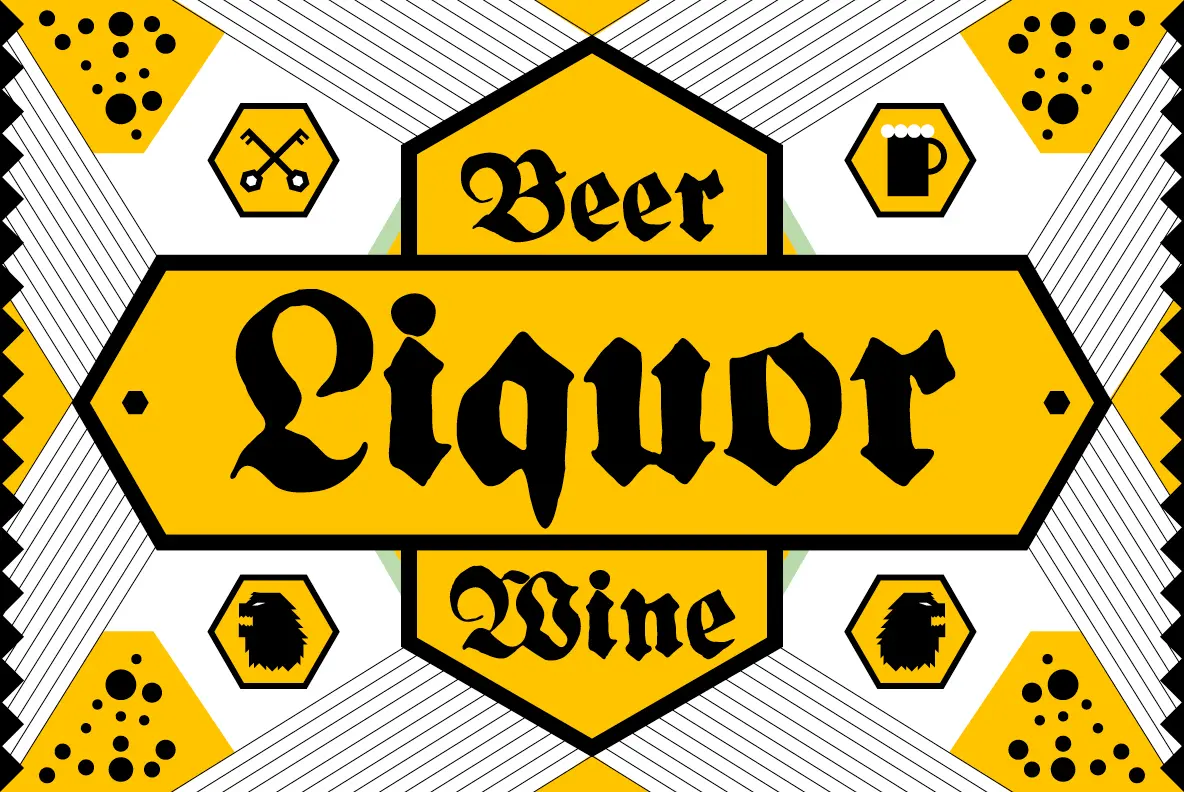 Slideshow: YWFT Fraktur
Fraktur features capital letters that are comprised of rounded s-shaped or rounded c-shaped strokes. Fraktur was a style that became the most common blackletter family to be used in Germany by the mid 1500s. It was ornately drawn yet easier to read than Textualis. The very first Fraktur type design was commissioned by Emperor Maximilian I; designed by Hieronymus Andreae in the early 16th century, the style took off in popularity in the decades that followed. In later centuries, Fraktur was replaced by Antiqua, although it did not go down without a fight – literally. In the 1800s and 1900s, the "Antiqua-Fraktur Dispute" saw people arguing over which style was the "correct" one to use, a debate that essentially lasted for more than a century.
Schwabacher was a common blackletter style for print typefaces in Germany, at least until it was replaced by Fraktur around 1530. That said, Schwabacher was still used for emphasis, much like italics are today, and still found occasional use as late as the 1900s. Schwabacher was closer to actual handwriting than Textualis, having emerged from the influence of humanist type design in Italy in the mid to late 1400s, and featured rounder curves paired with sharp strokes and edges.
Rotunda is a blackletter script that was used primarily in southern Europe. Rotunda is essentially the Italian version of Textualis and features a more circular lowercase "o" and far better legibility due to its less angular nature. The style was likely the result of saving space on the page, although its design may have emerged in part for purely aesthetic reasons.
Blackletter type designs were based on early manuscript hand lettering and while they've certainly evolved over centuries, they add a medieval look to graphic designs and text layouts. They're more difficult to read and were eventually phased out as other typefaces became popular for mass printing, but they're well suited to contemporary design projects of all kinds, including displays and signage, logos, posters, flyers, book covers, headings, and titles. 
Blackletter type designs also carry with them a tangible feeling of history and prestige, and they're typically used in the design of certificates, nameplates, diplomas, and college degrees for that reason.
Gothic Font Options at YouWorkForThem
YouWorkForThem offers a wide variety of blackletter fonts for graphic design projects. We've compiled some our favorites below that we think you'll enjoy!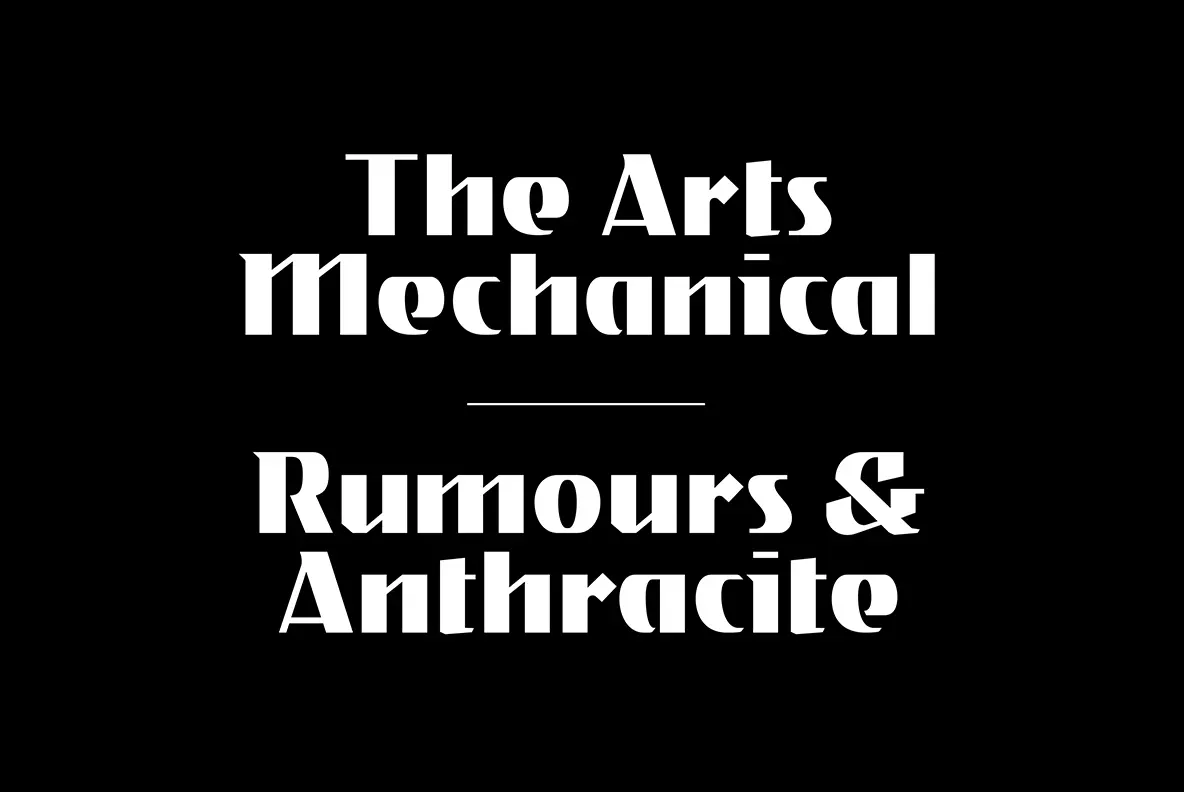 Designed by Connary Fagen, Gryffith CF is a display type family influenced by medieval print, art deco design, and modern technology. The result is a fresh Blackletter type style that blends the old with the new effortlessly and beautifully. The Gryffith family includes seven weights with matching italics, OpenType ligatures, extensive Latin script support, and as with all of Connary Fagen's work, free updates and feature additions.
The Red Billionaire, designed by Rvq, is a dual-purpose typeface that includes a stunning and unique blackletter option. It includes upper/lowercase support, along with multilingual support, making it a wonderful design choice if you need an internationally compatible blackletter typeface. It also includes a quirky script option in the complete family download, offering the ability to create a unique font duo for headlines.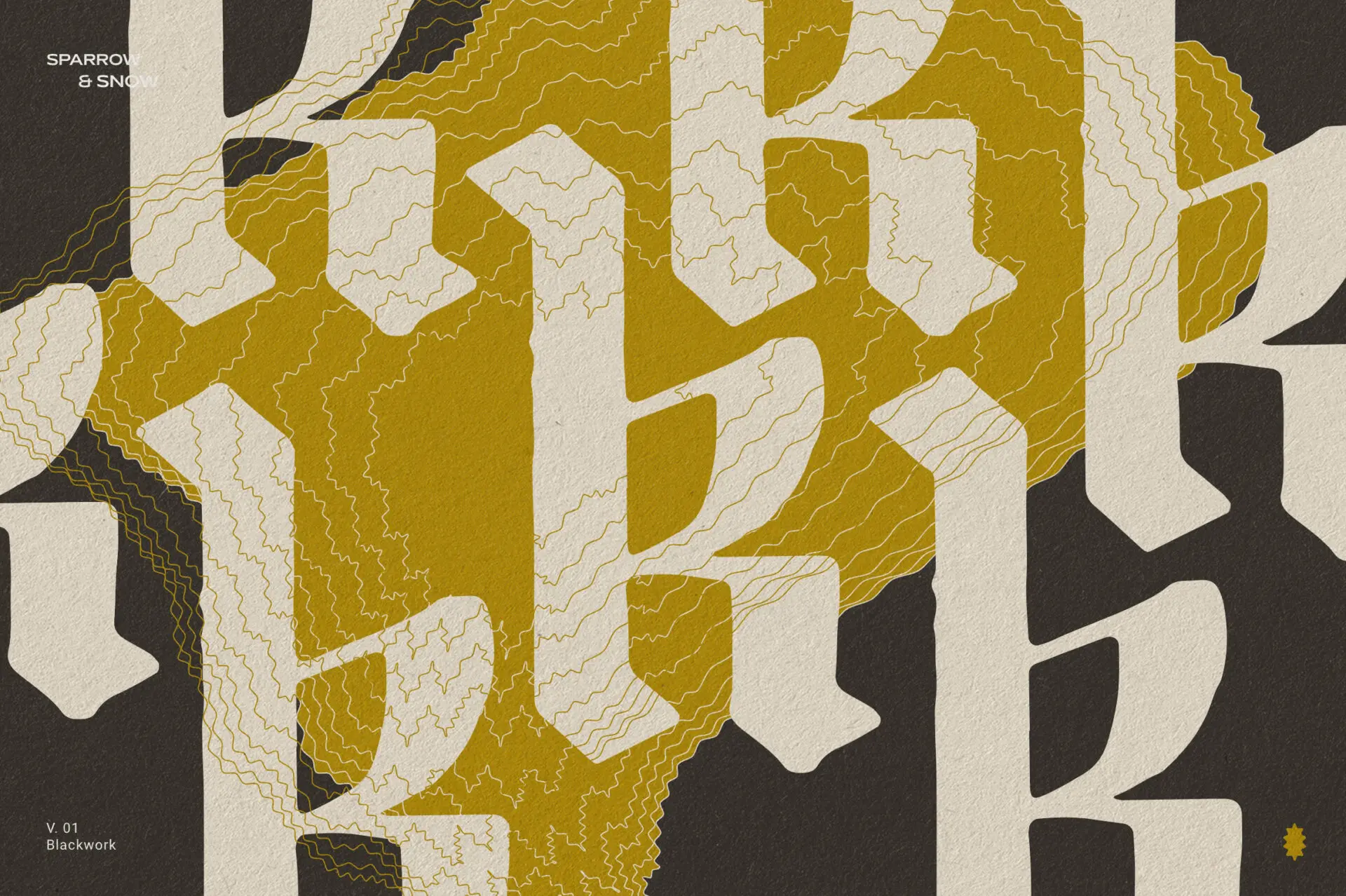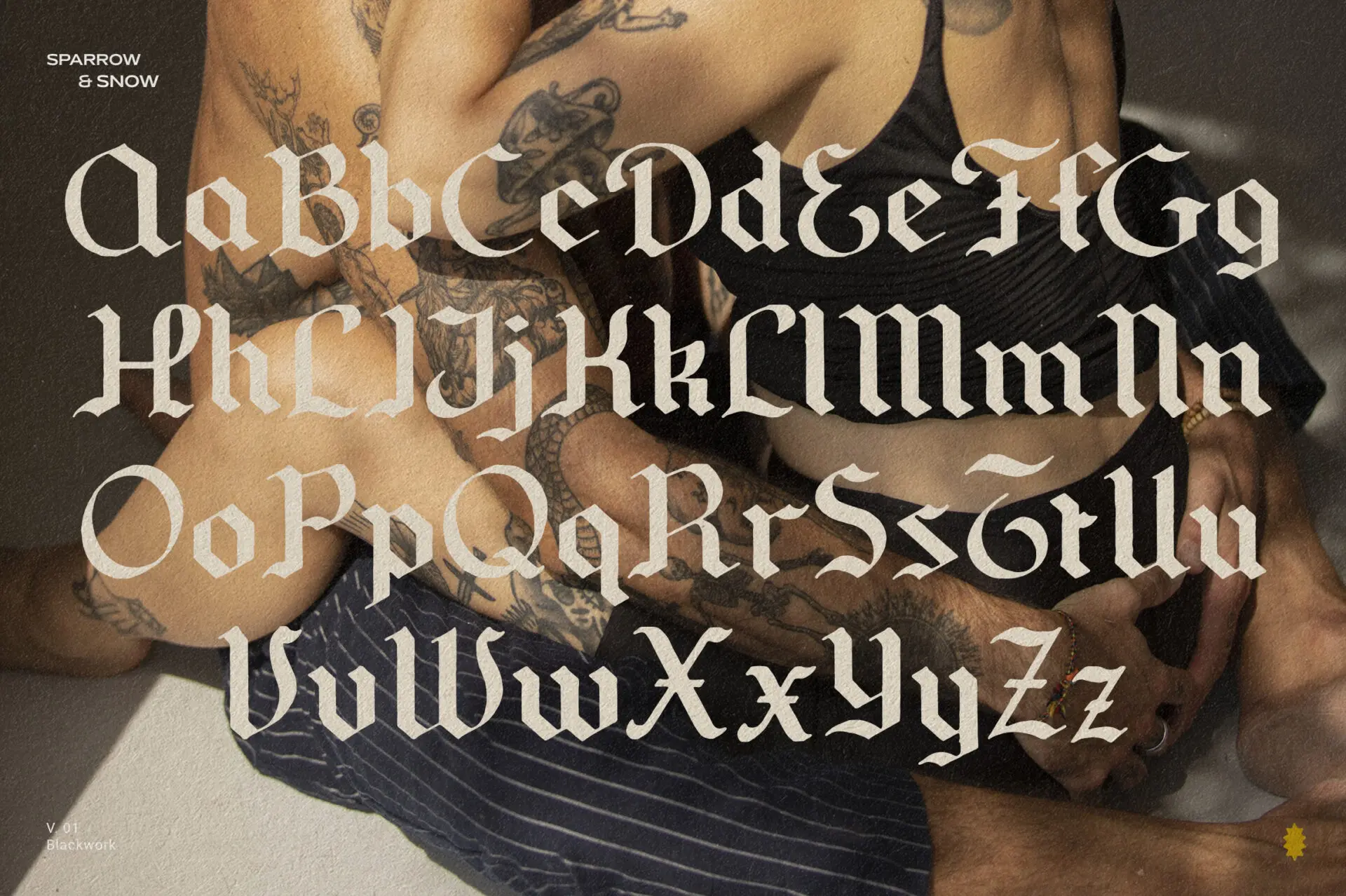 Blackwork is a font that has been designed with the goal of making your design projects truly stand out. The rounded edges and natural feel will help create an aesthetic for whatever project you're working on, be it logo or paragraph text; this typeface performs well across all categories while still maintaining good readability within each one!
Bork is a display typeface that was inspired by an exercise in blackletter calligraphy. The style's characteristic dark texture is seen mainly in the lowercase, with uniform spacing (where counterspace equals letterspace), shapes that recall the straight, interrupted strokes used in that style of writing, and the peculiar construction of certain letters. On the other hand, the uppercase aims for a more conventional roman construction, making it more legible for modern-day readers.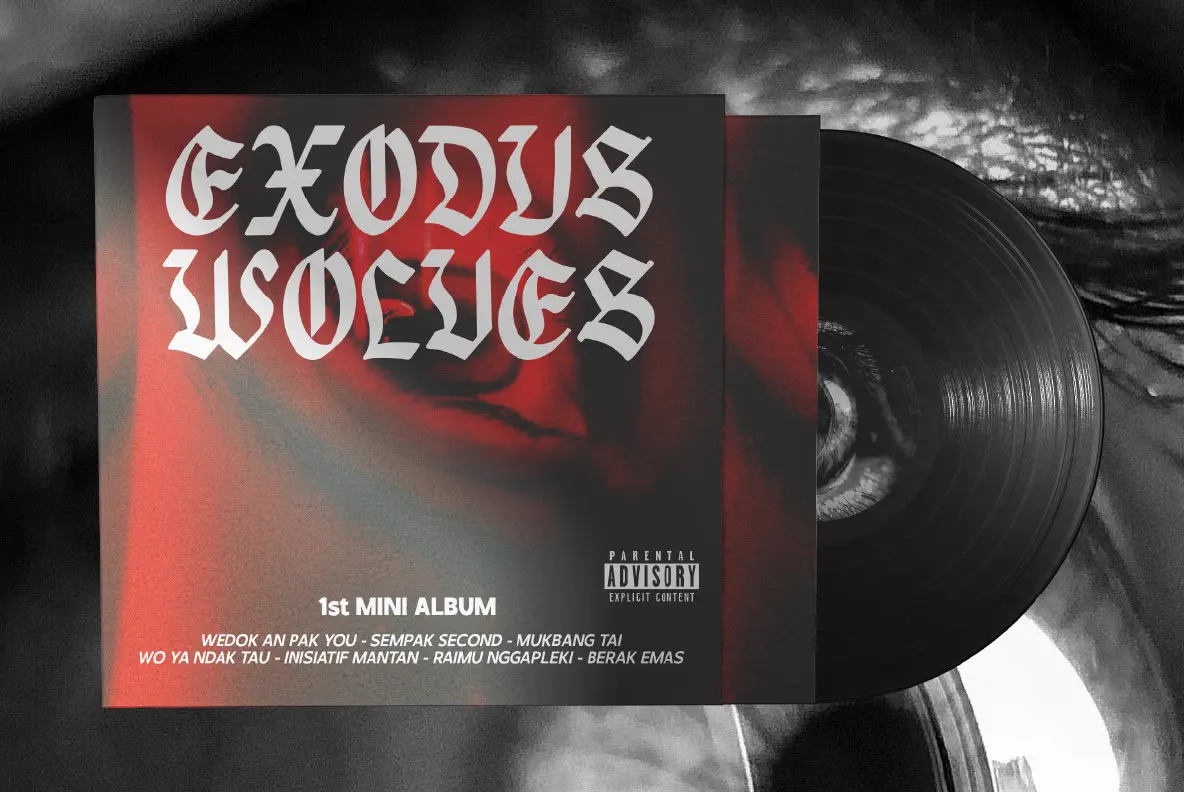 Swoxest is a high-contrast blackletter typeface, it adds a bold touch to your projects and will inspire you to create something unique and modern. This font also comes with alternative characters, and multi-language support.
YouWorkForThem carries dozens of Blackletter type designs for projects of all kinds. If you're looking for the perfect one for your next project, our search feature can point you in the right direction. Don't forget to try out our type tester tool – it's available for each font we offer so you can see any font "live" in action before you purchase!