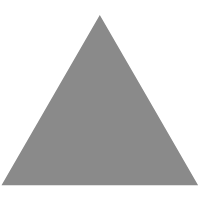 1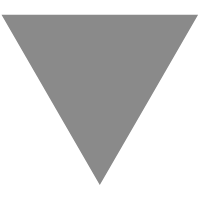 A guide to using testimonials and customer feedback in marketing emails + exampl...
source link: https://usersnap.com/blog/testimonials-and-customer-feedback-in-marketing-emails/
Go to the source link to view the article. You can view the picture content, updated content and better typesetting reading experience. If the link is broken, please click the button below to view the snapshot at that time.
A guide to using testimonials and customer feedback in marketing emails + example templates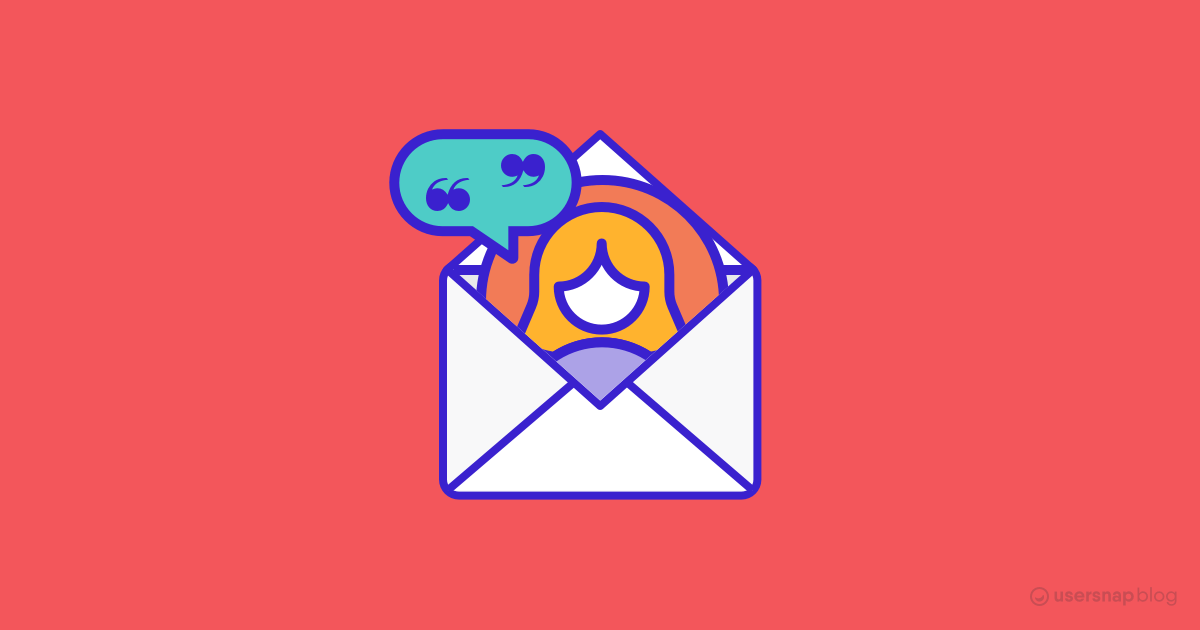 As per a report, "People are 270% more likely to purchase a product with five reviews than one with no reviews." Crazy, right? That's how crucial testimonials have become in a customer journey. 
With enhanced access to data and information, customers are becoming more aware of the products and services they are about to pay or are already paying for. Hence, testimonials have become a big deal to establish that 'trust factor' due to the 'unbiased quotient' and being the first-hand experience of a user who has already made a purchase. It becomes all the more important for a brand to leverage it properly so as to persuade a lead to become a customer.
Hence, the use of testimonials and feedback in your email marketing campaigns can have a direct impact on conversion rates if executed properly. Let's have a look at some of the best practices and examples to leverage testimonials and use customer feedback.
Short product reviews
It is unlikely that your subscribers would spend time reading long customer reviews. They look for quick opinions and review on a product to help them make a decision. Hence, ensure that the reviews you feature are compelling and to the point. Punchiest examples of testimonial email go a long way in leaving a mark on the customer's mind.
Look at this brilliant example from Oros.
Source: Really Good Emails
The reviews of this email are straightforward and deliver the message in a short amount of time, for instance, how PARKA is a superior product than others. It is to be noted that the testimonials are in line with the brand's messaging, which further strengthens the customers' belief in the product. Still can't wrap your head around how to use testimonials? You can take professional assistance from Marketo certified associates or Mailchimp certified expert developers.
Video testimonials
Videos are the latest rage in email marketing. As per a report, "68 per cent of people say they would prefer to learn about a new product or service by watching a short video." So, why not use it to a T to boost your product's positioning and value proposition? You might have created promotional videos till now, but now it's time to add a human touch to your marketing by creating video testimonials from real existing customers. How cool is that?
You can draw inspiration from this campaign from Trunk Club, which uses a video testimonial beautifully.
Source: Really Good Emails
The video plays the video testimony card with utmost perfection as it points out why video testimonials are essential: "But don't just take our word for it, learn about the value of having a stylist from members like you." Along with that, it also tempts the recipient to make a purchase by showcasing the real-life benefits and advantages people enjoy their service. Nowadays, everything is available on the internet. Even your next testimonial template is. You can avail expert services like Pardot email templatesor custom coded Mailchimp templates to make it a breeze for you.
Mentioning customer feedback in welcome emails
A welcome email is the first communication between you and your users. Hence, it is imperative to have them on board right from the beginning.
Featuring a testimonial or customer feedback in welcome emails would not only provide social proof to gain the trust of your new customers. But also let them know you are a brand that values customer relationships.
Here's an example from Usersnap, this is one of the first email their users read and it features a short and delightful testimonial.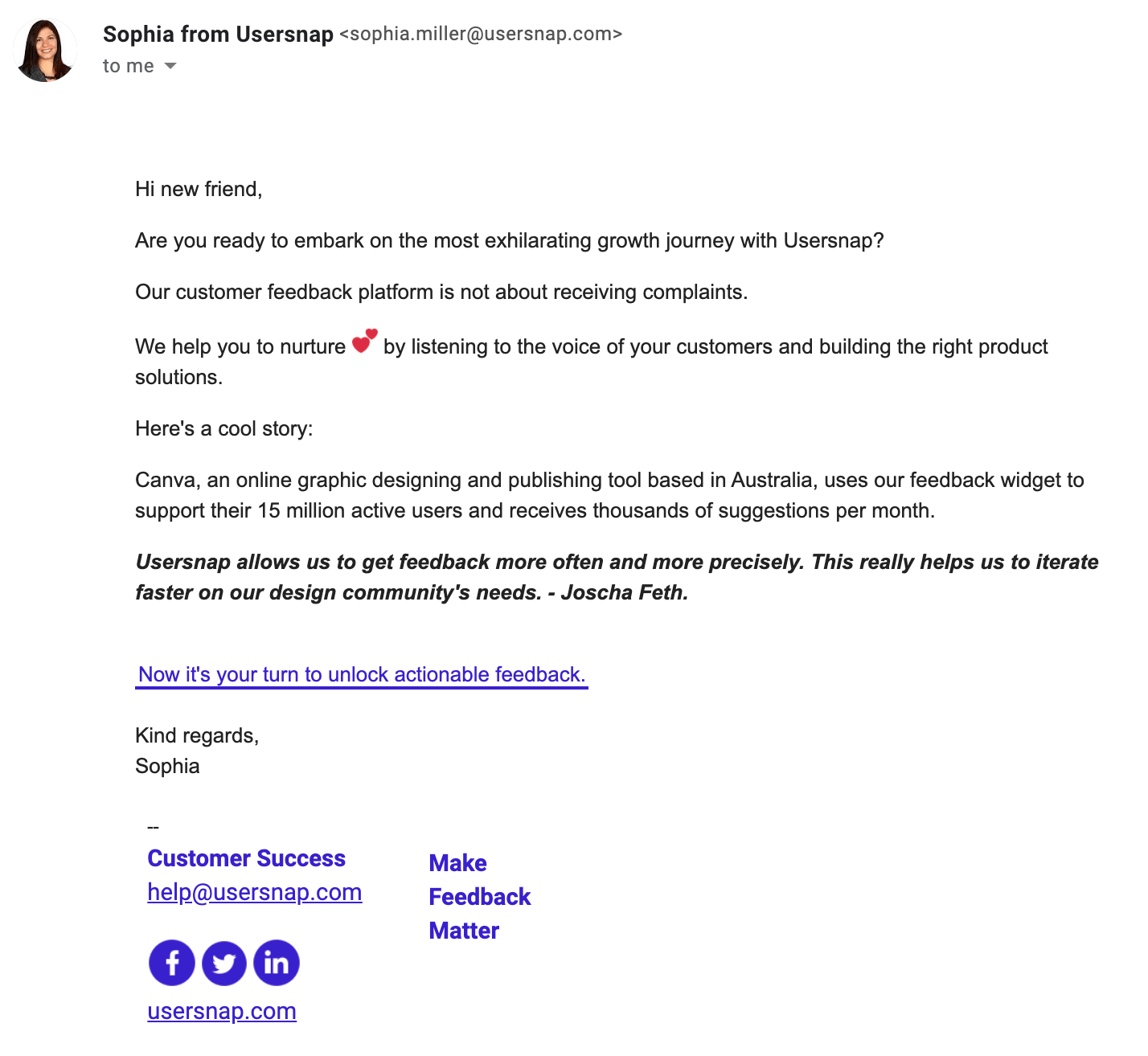 Using testimonials and customer feedback in reactivation emails
If subscribers lose interest in your offerings and ignore your emails and also refrain from clicking to the website or buying your services, then it's time to reinstate their interest. What's better than a compelling message from their fellow subscribers to do so. 
Today's customers understand the game of sales, and with a majority of brands running just after sales numbers, it's hard to distinguish between a deceitful marketing campaign and a genuine one. Hence, when the message comes (in the form of feedback) from someone at their end, it becomes all the more believable. 
If you can't feature the feedback from other subscribers, then you can also drop a friendly mail to leave on their own. 
Here is an apt example from Chime on how you can use creativity and more importantly, feedback from a fellow customer while trying to retain another customer. Kudos to the content of this email. This kind of real-life feedback and testimonials give the subscribers a sense of belief and elevate the value proposition of your product/service!
Source: Really Good Emails
Adding others' reviews to collect customr feedback
If you want to amplify the number of reviews, it's better to show them some examples which are already posted. It is one of the best ways to encourage subscribers to express how they feel about your products and services.
Have a look at the example mentioned below from Revolution Tea. The brand takes the feedback process a step further by even rewarding the subscribers for taking part in the survey and submitting their feedback. It's a great amalgamation of referral and survey emails.
Source: Really Good Emails
Sound more convincing with testimonials and customer feedback
By now, it is established how critical testimonials and feedback are to decide the direction for a business. If executed properly, the process of collecting and incorporating them in the emails can elevate the entire user experience for a brand. So, what are you waiting for? Collect those precious data points from your customers and take your offerings to the next league with these examples of testimonial email.
Author Bio
Kevin George is the Head of Marketing at Email Uplers, an Email Marketing Agency, that specializes in converting PSD to email templates. He loves gadgets, bikes, jazz, and breathes 'email marketing'. He is a brand magician who loves to engage and share insights with fellow marketers.
About Joyk
Aggregate valuable and interesting links.
Joyk means Joy of geeK