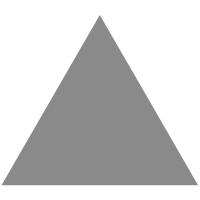 0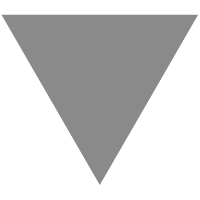 Motorola Moto G 5G (2023) Review: Not Quite The Hero Low-End Android Phone Of Yo...
source link: https://www.slashgear.com/1295760/motorola-moto-g-5g-2023-review-not-hero-low-end-android-phone/
Go to the source link to view the article. You can view the picture content, updated content and better typesetting reading experience. If the link is broken, please click the button below to view the snapshot at that time.
Motorola Moto G 5G (2023) Review: Not Quite The Hero Low-End Android Phone Of Yore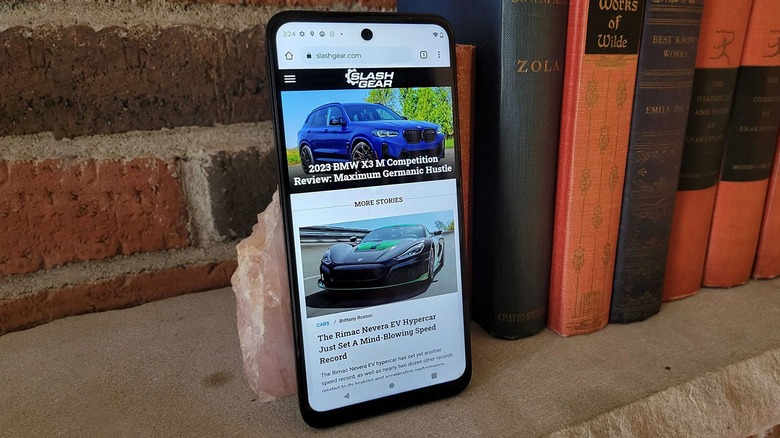 Dave McQuilling/SlashGear
EDITORS' RATING : 6 / 10
Pros
The display is nice
The speakers are brilliant
Amazing battery life
Can play most games, and handle everyday tasks well
Cons
Night vision camera isn't what it was hyped up as
No real waterproofing or dust protection
Lacking in the RAM department
It's a very good time to be in the market for a budget-minded (aka low-end) phone. These days some absolute bargains can be yours, brand new, for just over a couple of hundred dollars. Just as Apple, Google, and Samsung are battling it out at the high and mid ranges, the low end of things features a lot of fierce competition. This is where Motorola has chosen to compete, and the Moto G 5G joins its recently released stylus-carrying sibling in attempting to offer a bit more than everyone else for a little less money. Motorola provided a Moto G 5G for the purposes of this review.
It's important to remember that this is a sub-$250 phone. While that doesn't mean it's bad by any means, expecting it to directly compete with $1,000+ flagships would be silly. The Moto G 5G (2023) works perfectly well as a basic mobile phone. You can place calls and send text messages with it — provided you have a signal. The audio sounds clear and connectivity seems to be on par with most other Android devices. Now that's out of the way, let's explore a few of the other features.
Initial setup took a while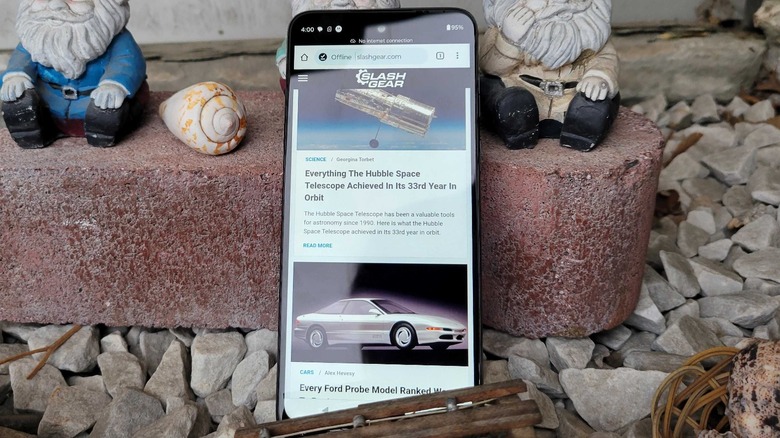 Dave McQuilling/SlashGear
This may have something to do with Motorola's setup process — or it may be related to the hardware — but this phone's initial processing sequence took some time. It wasn't anything to do with the setup process, which seemed pretty standard for Android. Your input involves connecting to Wi-Fi, adding a Google account, and not much beyond that. The loading screens took a pretty long time, but it was all smooth sailing once the setup was completed. It does say "Hello Moto" at you in a silly voice, and that will make a wave of nostalgia hit you if you owned a Razr back in the day.
Buying this phone in Montana may lead to some interesting issues if recently passed legislation somehow holds up. TikTok is among the pre-loaded apps and the state recently became the first to ban the Chinese-owned, short-format video-based app. TikTok exists alongside a surprisingly minimal amount of bloatware. There are a couple of Motorola apps alongside a word game, and not much else. Which is refreshing.
You should set this phone up somewhere dry and keep it there. Like many cheaper devices, it lacks any kind of serious waterproofing. Motorola describes it as featuring a "Water-repellent design" which means splashes, mild spills, and light drizzle should not ruin it completely. But it isn't officially rated against dust or water, and if you submerge it for any reason it's probably going to break.
It isn't that beefy under the hood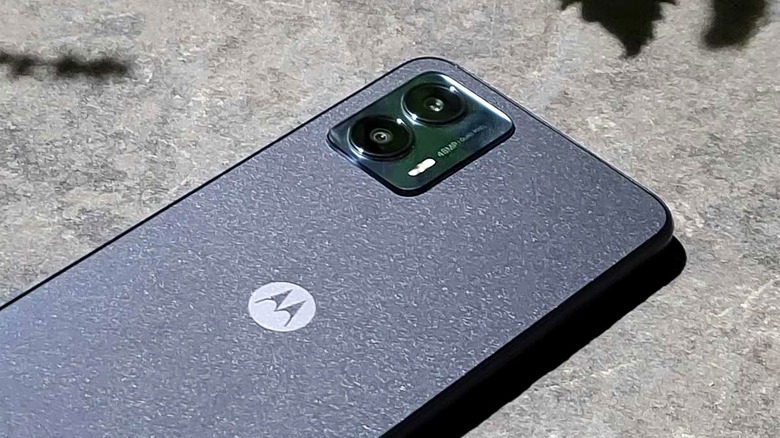 Dave McQuilling/SlashGear
As you may expect from the price point, there isn't an extreme amount of power under the hood when it comes to the Motorola Moto G 5G. The Snapdragon 480, providing the processing power is over two years old, and 4 GB of RAM is far less than a lot of other phones currently offer. Last year's OnePlus Nord N20 wasn't a million miles away in terms of price — but came with 6GB of memory. Speaking of memory, the cheaper versions of this phone come with 64 GB of storage built in. The version we tested has 128 GB.
But numbers are boring; what does all of this mean in terms of performance? The RAM may be an issue if you're big on multitasking, or just enjoy having a billion tabs open on your phone's browser. In terms of raw performance, the Snapdragon 480 chip's 2.2GHz octa-core Kryo 460 CPU and 650MHz Adreno 619 GPU are enough to run "PUBG Mobile" — the full version, not the lite one. If the phone can run a 3D Battle Royale game, it can probably handle most of the other stuff on the Play Store just fine.
The display is very nice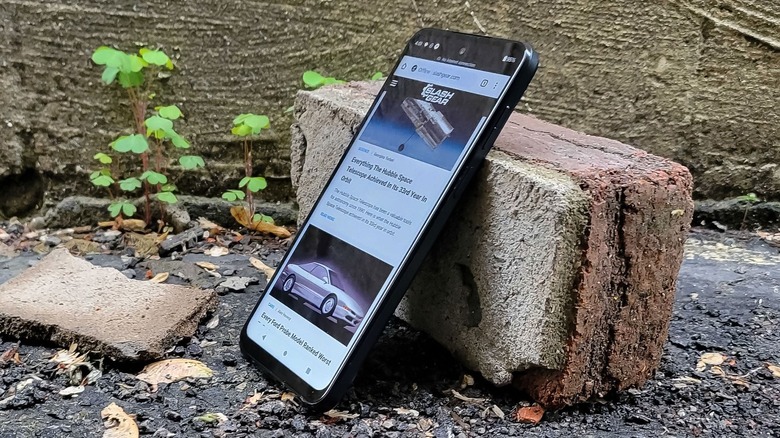 Dave McQuilling/SlashGear
In terms of resolution, the display isn't 4K like some of the higher-end options on the market, but that doesn't matter too much. Ultra HD options are worth the extra money if you're thinking of buying something like a 40-inch TV or a projector that can throw up a 120-inch image. The extra pixels really help keep the output looking sharp as things scale up. But on something with a 6.5-inch display, like the Motorola Moto G 5G for example, it doesn't really matter. The phone has a 1600 x 720 resolution, which is hovering in the space between 1080p and 2K. But everything on it looks perfectly sharp.
There are other areas that do matter with smaller displays. You can't expect an OLED screen at this price point, you're stuck with a regular old LED. But the refresh rate can be cranked up, and that's what's happened with the Moto G 5G. The screen runs at 120Hz, and everything on it is smooth as butter. Menu swipes, apps, and animations all look fantastic. All in all, this is a very respectable display for the money. 
The touchscreen is responsive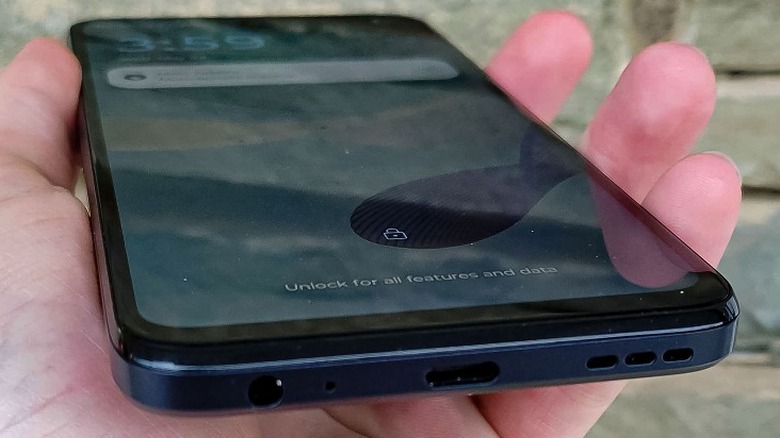 Dave McQuilling/SlashGear
The touchscreen is also very responsive. This may have been highlighted in other reviews, but touchscreens on lower-end phones are fantastic these days. They used to be awful, and unresponsive, things — but now the touchscreen on something like a Motorola Moto G 5G performs just as well as the one you'll find on something like an iPhone. At least it will be within the boundaries of "normal" use anyway. "Gestures" also work well on the device, if you're inclined to use them. As with other Android phones, there is a default set but these can be personalized.
At 6.5 inches, the display is slightly larger than many mobile devices these days. Whether or not this is a good thing depends on personal tastes. It definitely helps when watching something on the device. Typing and playing games is also simpler when a bigger display is an option. But there are some people who miss the days when phones were smaller and most people could comfortably use one with a single hand.
Biometric features could be better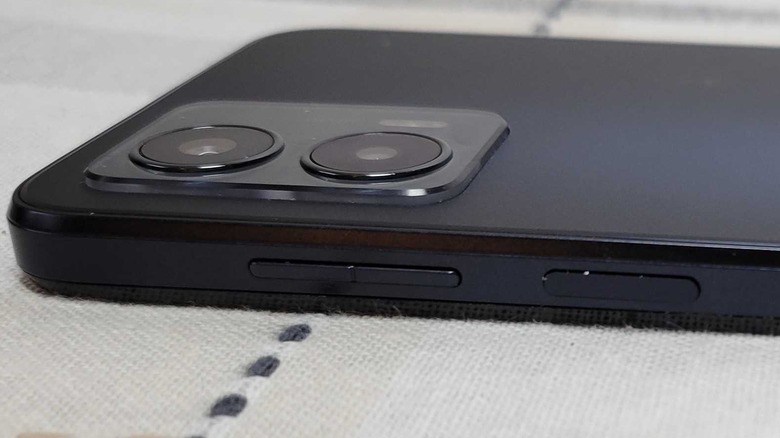 Dave McQuilling/SlashGear
Biometric options are available on the Motorola Moto G 5G, though you shouldn't expect anything cutting-edge. There isn't an iris scanner, but the Android operating system and the quality of the front camera means "Face Unlock" is an option you can enable if you would like to unlock your phone by glaring at it. Beyond that, the only other biometric feature is the fingerprint scanner — which is placed on the power button. 
A fingerprint scanner embedded in a power button on a smartphone can be a pain point for some users. This Motorola phone's power button is on the right side of the device, which can make the process awkward if you're right-handed and are used to using your index finger to unlock your phone. This makes it even more awkward to unlock if you're right-handed. You can't just casually unlock it as you hold the phone normally; you have to two-hand it and specifically align a finger with the button. Underscreen fingerprint sensors aren't a brand-new technology, but they may be in an area Motorola was happy to sacrifice in order to keep costs down. Still, a sensor on the back of the device, like a Samsung device before they moved to under-screen scanners, would have been a better option than jamming it onto an awkwardly-placed power button.
Battery life is superb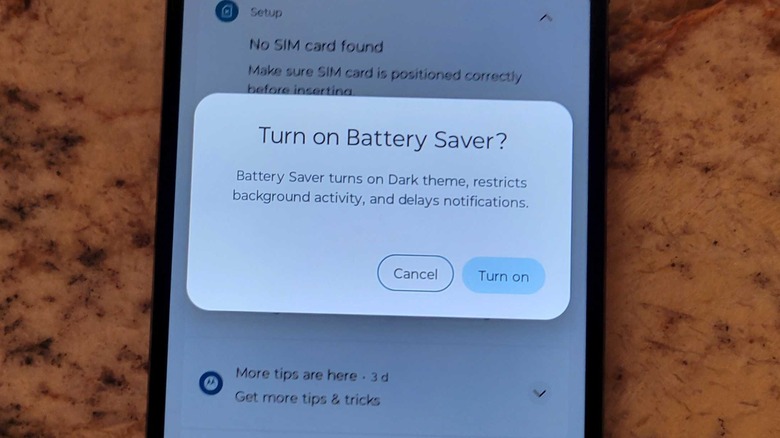 Dave McQuilling/SlashGear
The phone itself comes with a 5,000 mAh battery, which actually outguns a lot of higher-end devices, including the Samsung Galaxy S23. The lack of particularly demanding components also means that the battery lasts a fair amount of time. Even the half-charge this review unit initially arrived with was able to power through a full day of fairly intense use. Once the device gets down to about 20% it prompts you to enable a "battery saving mode," which winds things down a little bit more but can extend that battery life even further. 
Obviously, demanding processes like games will kill the battery off in a couple of hours, but you should get plenty out of it if it's used for general applications like browsing the web or social media, taking photos, and sending messages. If you want your battery to last a little longer, there's a "battery optimization" mode in the settings which is disabled by default but will charge the phone in a way that extends the overall life of the device. The Moto G 5G is also capable of 15W charging, so if you find yourself needing a top-up it's possible to get a lot of juice into this phone relatively quickly. During the testing period, a full charge was obtained from something like 12% battery well within a couple of hours.
The camera has a lot of options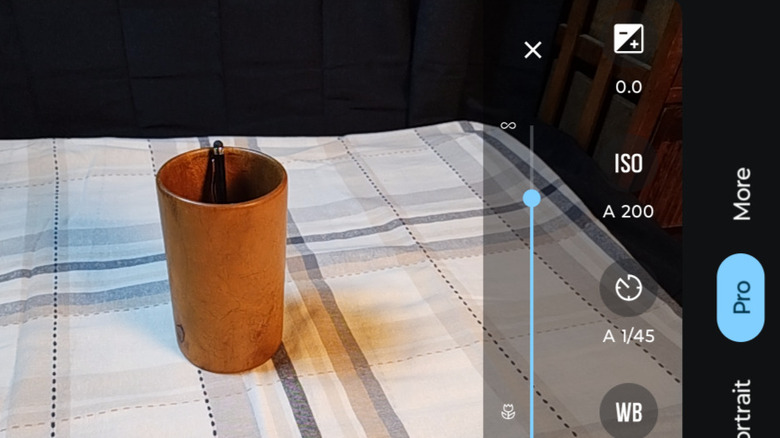 Dave McQuilling/SlashGear
Motorola has made a big thing about the camera capabilities of the Moto G 5G, which makes sense. Gone are the days when phones on the cheaper end of the spectrum would have low-quality displays, unresponsive touchscreens, and poor connectivity. Most cheap phones can do the basics well, so areas like the camera are where companies can make their products stand out. The Moto G boasts a 48 MP rear camera, a 2 MP macro camera, and an 8 MP camera on the front. The cameras themselves are pretty good, but we all know that the software side of things is pretty important too. Google has decided to go down the software route with its recent offerings, and Motorola has also managed to muster up something worth mentioning.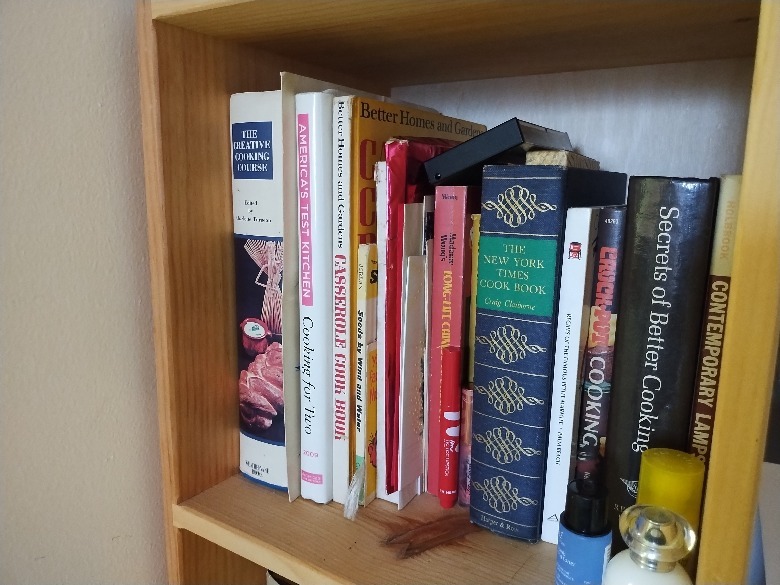 Dave McQuilling/SlashGear
"Pro" mode is a feature on most Android cameras, and it allows you to do things like adjust the ISO settings or manually focus the image. On some phones, like the Galaxy S22, accessing Pro mode is a chore and you'd be forgiven for not even knowing it's there. 
Motorola has decided to bring it to the forefront, and it's one of the options you can quickly select by swiping left a few times in the camera menu. While it involves a slight learning curve, it does allow a far greater level of control over things like lighting, colors, and image sharpness.
It doesn't perform that well in the dark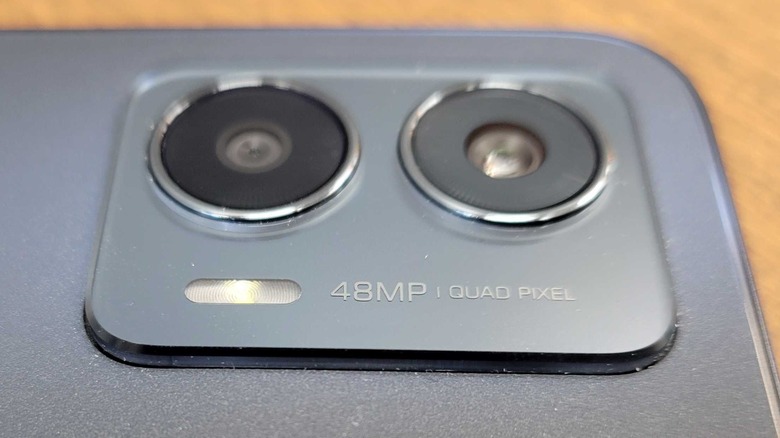 Dave McQuilling/SlashGear
Sadly, despite promising a lot in the accompanying literature, the Moto G 5G doesn't really deliver when it comes to low-light photography. "Night Vision" mode is supposed to combine "multiple frames at different exposures" to give your low-light shots better clarity, colors, and detail.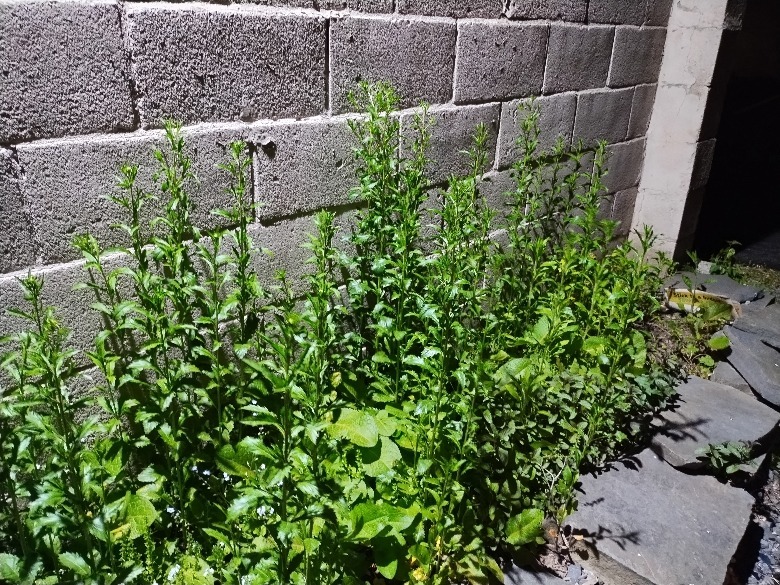 Dave McQuilling/SlashGear
This feature was billed for "extreme low light conditions." Below is an example of how it actually performs in extremely low light. The picture looks fine from a distance or on a small screen but if you zoom in even slightly you'll see that the detail just isn't there and everything has blended together somewhat.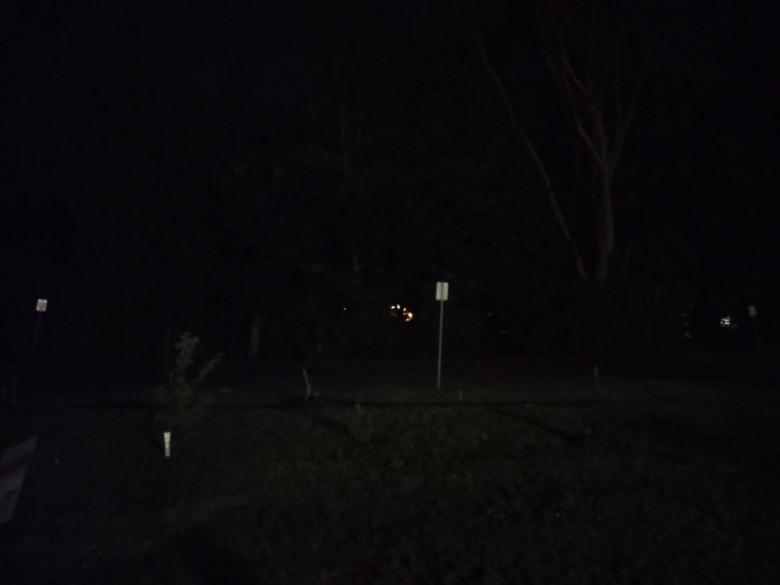 Dave McQuilling/SlashGear
There's no great shame in this. Higher-end phone cameras can also struggle when it comes to nighttime photography and it takes a truly great piece of kit to perform well in what must be one of the most difficult conditions the average person's phone will encounter. What doesn't sit right is Motorola bragging about the phone's performance in "extreme" low light when it performs about as poorly as any other low-end phone released in recent months.
The speakers are surprisingly good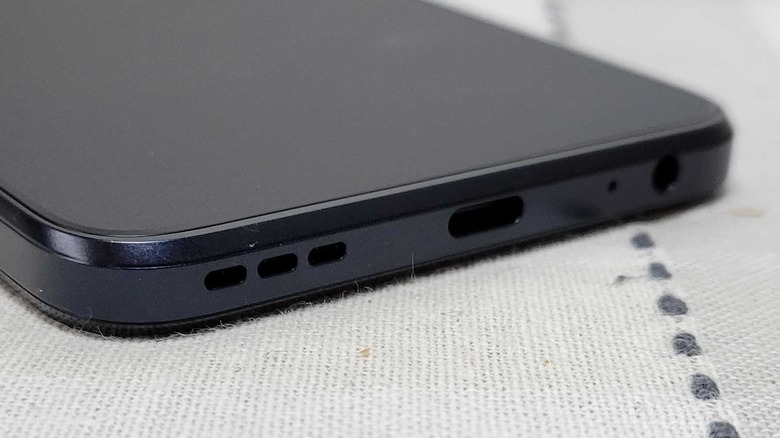 Dave McQuilling/SlashGear
A pair of stereo speakers are present at the bottom of the phone, and the device itself features "Dolby Atmos," as a surprising number of things do. Motorola claims you can "Enjoy deeper bass and crisp, clean vocals, even when cranked up to high volumes." Motorola isn't lying. The speakers were tested against a wide array of music, a video with plenty of explosions, and more standard stuff like clips featuring a YouTuber talking to the camera about some mundane nonsense. It passed all of these tests with flying colors.
The speakers are very clear and can get pretty loud. They're actually amongst the best built-in phone speakers on the market today. You don't get any of that tinniness that tends to lurk in smartphone speakers, and listening to things like music for an extended period of time is far from a chore on this device. It won't replace a good set of high-quality headphones, and cranking up the phone speakers in public is obnoxious, whatever the circumstances, but the audio on offer is among the Motorola Moto G 5G's best features.
Many of the cheaper phones on the market also retain a couple of much-loved features that flagship devices abandoned long ago. The Motorola Moto G 5G is one of these phones, and you will find both a 3.5mm headphone jack and a space to pop in a micro SD card on this device. This may be pretty invaluable, especially if you fall in love with the phone's camera or listen to a lot of music.
The connectivity side of things is up to date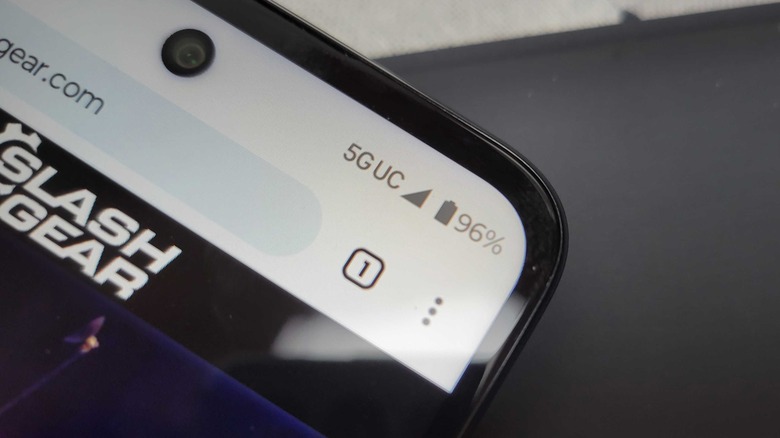 Dave McQuilling/SlashGear
If the phone's name hasn't given it away, it is capable of connecting to a 5G network if your phone plan offers 5G connectivity. Most plans do these days, and the network is pretty vast. 5G itself is far closer to a standard than it is a unique feature, even at the lower end of the scale. Still, it's good that this phone is 5G capable as if it was only able to connect to LTE at best that would be a major miss on Motorola's part and you'd currently be reading a huge complaint.
Beyond 5G, there's also the ability to connect to Bluetooth 5.1, and you can use the phone to create a Wi-Fi hotspot if you want that 5G to extend to your computer in times of emergency. The phone's Snapdragon 480 is Wi-Fi 6 capable, but it's important to note that basic Wi-Fi 6 isn't Wi-Fi 6E and doesn't allow access to the ultra-fast 6 gHz WiFi band. In any case, Wi-Fi 6 feature doesn't even (or yet?) seem to be enabled on the Moto G 5G anyway.
It's a solid phone for the money, but there are competitors close by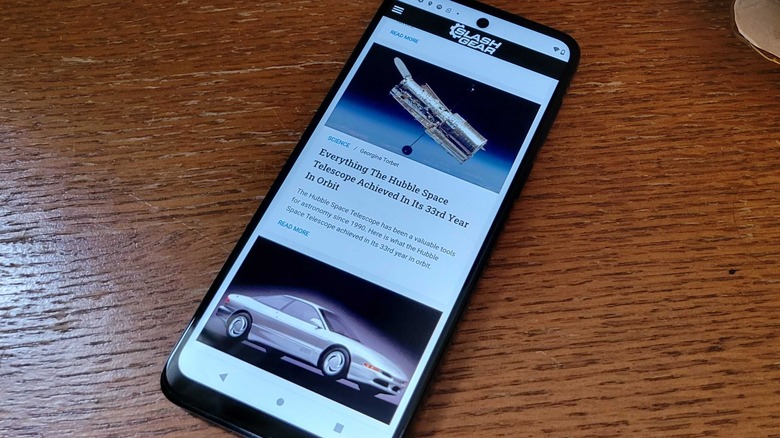 Dave McQuilling/SlashGear
The Motorola Moto G 5G is absolutely dirt cheap and scores well in a number of essential departments, but lags behind in others. Can it go toe to toe with one of the big boys in terms of raw performance? No, of course not. But it does enough to handle the average smartphone user's daily tasks with ease, play most if not all current mobile games, has a very large battery, and the 5G connectivity means you can get the most from the majority of phone plans currently on offer.
The "night mode" camera was a bit of a letdown, mainly because it was built up so much. But you will be able to take good photos in most conditions. With that said, there are slightly pricier options that do outgun the Moto G 5G in several departments, such as RAM, biometric features, and camera quality. But those mainly show up if you're treating this as a "lower-end" phone. It's not as impressive as the original Moto G was at launch, but if we're only talking about devices that cost $250 or less, then this is a great option.