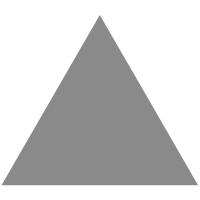 0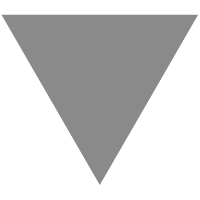 2023 BMW XM First Drive: A Performance Future We Can Get Behind
source link: https://www.slashgear.com/1230819/2023-bmw-xm-first-drive-a-performance-future-we-can-get-behind/
Go to the source link to view the article. You can view the picture content, updated content and better typesetting reading experience. If the link is broken, please click the button below to view the snapshot at that time.
2023 BMW XM First Drive: A Performance Future We Can Get Behind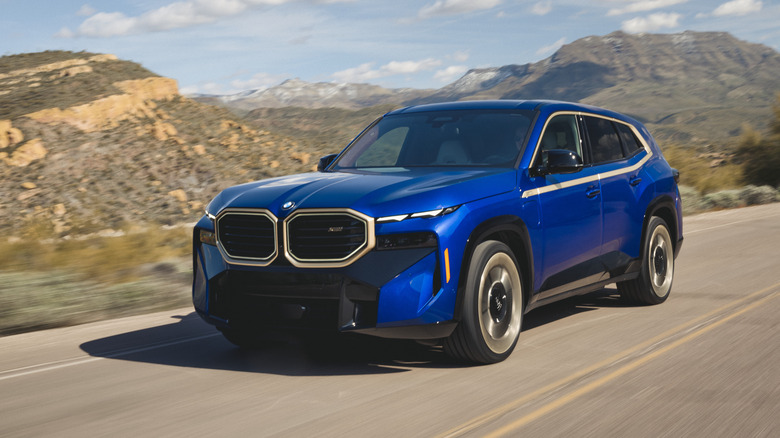 Uwe Fischer/BMW
The 2023 BMW XM certainly raises some eyebrows. BMW's latest hardcore M car isn't a lithe coupe or a bangin' sedan –- it's a nearly 17-foot-long, 6,000-pound plug-in hybrid SUV that looks like, um, that. It's a vehicle unlike anything M has offered before. And after driving the XM along mountain roads in Arizona, if this is a sign of what's to come from BMW's performance arm, then consider me totally on board.
BMW has already started building the 2023 XM right here in North America at its plant near Spartanburg, South Carolina. The XM isn't a cheap proposition, starting at $159,995 including a $995 destination charge, or $167,400 as tested. But the XM is a loud and proud fashion statement SUV along the same lines as a Lamborghini Urus or Mercedes-AMG G63, and by that measure the BMW isn't just cheaper than its rivals, it's better to drive, too.
V8 power with electric assist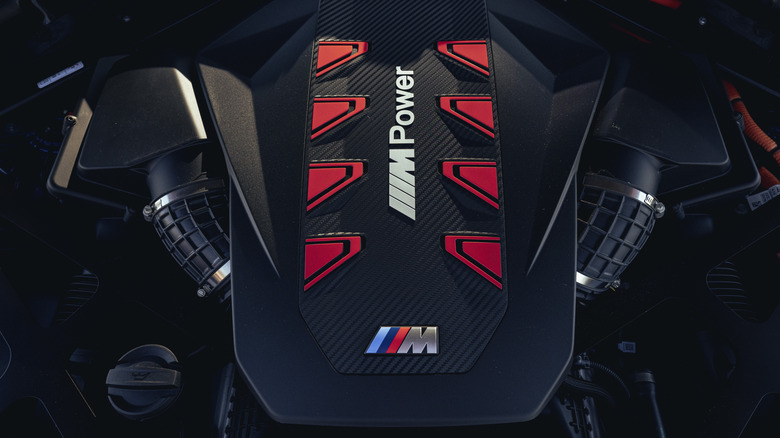 Uwe Fischer/BMW
The XM is the first BMW since the M1 supercar that's 100% unique to the M division – as in, there's no non-M counterpart. It's also M's first foray into the world of electrification, and the XM's super sweet plug-in hybrid powertrain is a great reminder that electrons are incredibly useful for bolstering performance.
The heart of the XM is a 4.4-liter twin-turbocharged V8 engine, and it's paired with a 29.5-kilowatt-hour lithium-ion battery –- 25.7 kWh of which is usable –- as well as a single electric motor that's housed inside the 8-speed automatic transmission. All told, the XM produces 644 horsepower and 590 pound-feet of torque, and later this year, BMW will launch the XM Label Red that ups output to 735 hp and 735 lb-ft of torque. That one's going to absolutely rip.
Launch the XM from a stop -– oh yes, it has launch control –- and the big SUV will hit 60 mph in 4.1 seconds. Under hard acceleration, the eight-speed transmission works seamlessly, holding gears to redline and keeping the engine firmly in its power band. Carbon fiber paddle shifters are standard, so you can choose your own adventure, but the transmission is so well behaved and in sync with my actions that I never feel like I need to override its decisions. That's basically just a nice way of saying this gearbox is smarter than I am.
The XM really scoots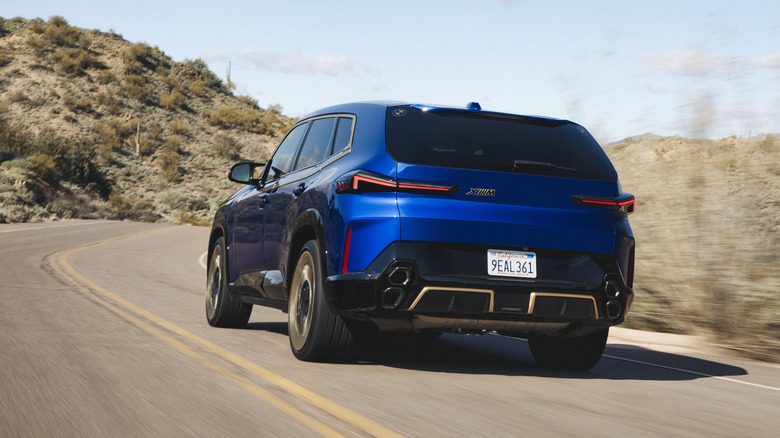 Uwe Fischer/BMW
Thanks to 48-volt anti-roll technology, variable torque vectoring, and grippy Pirelli P Zero summer tires –- 275/35s up front and 315/30s out back –- the XM has significantly more on-road verve than either its shape or size might suggest. The steering is perfectly weighted and gives just enough feedback to the driver, and because the active anti-roll system cuts out any uncouth body movements, the XM reassures you that it can absolutely be tossed into a fast corner with composure and grace.
As with all M cars, BMW lets you fuss with different drive settings to your heart's content. There are Comfort, Sport and Sport Plus settings for the engine response and adaptive dampers, and you can switch between Comfort and Sport programs for the steering and brakes. The differences between all these settings are pretty minor, but they're worth sampling. And when you find a mix that suits your needs, just hold the bright red M1 or M2 toggles on the steering wheel to save it as an individual driving profile.
Decent electric range, but this hybrid's all about power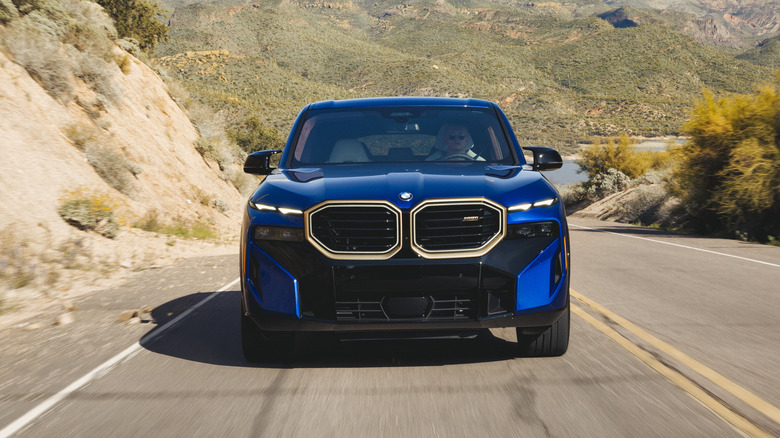 Uwe Fischer/BMW
The XM defaults to its hybrid drive mode, where it'll use the electric motor as much as possible for supplemental performance, firing up the gas engine when needed (which, admittedly, is most of the time). You can drive the XM solely under electric power at speeds up to 87 mph, but since you're only relying on the e-motor's 194 hp and 207 lb-ft of torque in this setting, don't expect the same level of performance. There's also an eControl mode, which is similar to the battery hold systems found in other plug-in hybrids, where you can exclusively run the gas engine, and save those sweet, sweet electrons for another time.
Official EPA data is still forthcoming, but BMW expects the XM to have a roughly 30 mile electric driving range, which is good but not great. Remember, though, this hybrid system is more about providing supplemental oomph than fuel-sippin' eco driving, and because all that electric torque is available right from idle, it can provide necessary boost while the turbochargers spool up, meaning power delivery is instantaneous and rewarding. Seriously, floor this thing when you're doing 45 mph and you'll be cresting legal speeds in the blink of an eye.
Drive the XM hard and it'll use energy recuperation to send electricity back into the battery, which is neat, and kind of an interesting little reward for your leadfoot tendencies. Like a lot of PHEVs, the XM can't accept DC fast charging — it wouldn't make sense given the small lithium-ion pack — but on a Level 2 charger, the battery can go from 0 to 100% in just over 3 hours, which really isn't bad. There's even a cute little tote for the charging cable in the XM's trunk, and since it's lined and waterproof, you can use it for clothes or groceries.
Swanky inside, wild outside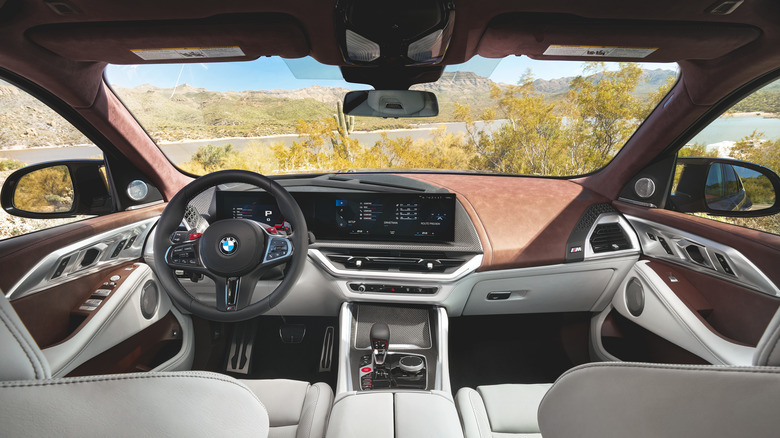 Uwe Fischer/BMW
The XM is about the same size as the BMW X7, but unlike its more pedestrian sibling — relatively speaking — M's performance SUV has two rows of seats, not three. This means there's a lot more room for back-seat passengers to spread out; so much so, in fact, that BMW created what it calls the M Lounge, where the rear bench sort of wraps around onto the XM's sides and doors. With this extended leather upholstery and cushioned bolstering, you can sit with your body angled toward the other rear passenger, rather than just straight ahead. Oh, and don't forget to check out the geometrically sculpted headliner.
Up front, the standard sport seats are outstanding: deliciously comfortable and supportive in all the right ways. The cockpit as a whole is really inviting, with nice carbon fiber and aluminum trim breaking up the huge swaths of leather. Also, please, do yourself a favor and go for one of BMW's more interesting "vintage" color schemes, like the teal/brown or white/brown.
While I'm on the topic of colors, I'd be remiss not to address the XM's exterior styling, which I think can best be described as polarizing. The optional gold trim and 23-inch wheels look rad, and I dig the kinks in the roof above the hatch, as well as the stacked exhaust tips. Front to back, I love it. But fiery messages from internet commenters suggest I might be in the minority here.
Solid suite of tech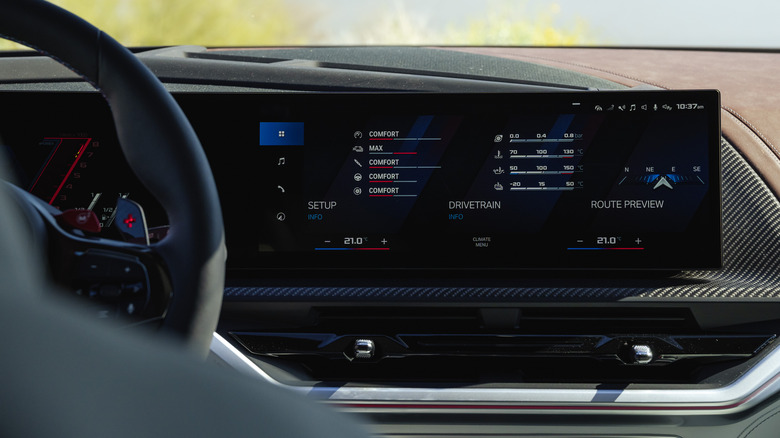 Uwe Fischer/BMW
There's a familiar suite of technology onboard, with BMW's iDrive 8 infotainment system handling multimedia duties. A large, curved display spans more than half the width of the dashboard, incorporating both the central touchscreen and digital gauge cluster. The graphics are all fresh and modern — and colorful, too. My only big complaint about iDrive 8 is that the main menu screen is a mess of small icons that are kind of hard to hit while driving. It's honestly a little overwhelming at first, though after a few weeks of ownership, this'll likely be easier to navigate.
The XM sadly does not come with the cool new hands-free Highway Assistant that BMW offers in the 7 Series, but driver-assistance technology is still in pretty high supply — assuming, that is, you pay for it. Standard equipment is limited to things like forward-collision warning and lane-departure warning, so be prepared to shell out a little extra cash on top of the already six-figure sticker if you want full-speed adaptive cruise control, lane-keeping assist, and other features.
2023 BMW XM: A bold step in the right direction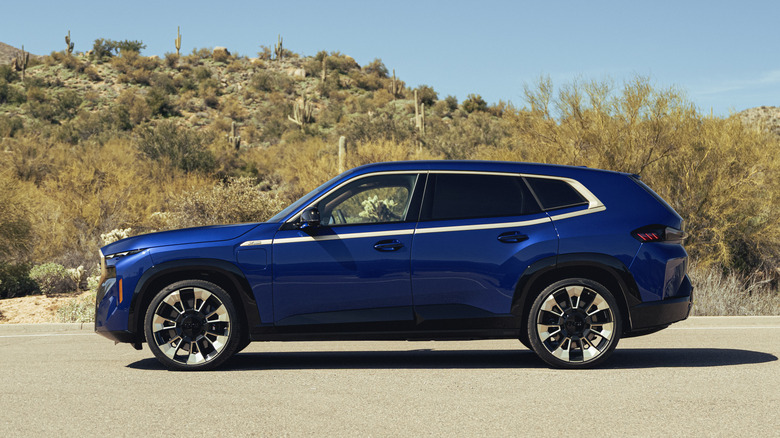 Uwe Fischer/BMW
BMW's M division proudly calls the XM its flagship, and after driving this hybrid SUV, that assessment feels spot-on. There's a level of luxury and craftsmanship that's a step above other M cars, and the plug-in hybrid performance is truly outstanding — I can't wait to see this powertrain make its way to other products, perhaps with slightly less divisive exterior styling and hopefully with a somewhat more attainable price tag.
Meanwhile, the M team will continue to build the smaller sports cars people know and love; stay tuned for my review of the new M2 coupe in just a couple of weeks. Think of this as an expansion of the division's remit, not a redirection. For its first bespoke product in decades, M pulled out all the stops for the radical new XM, and the result is one of the company's best performance cars in years.