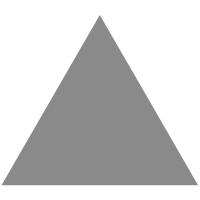 0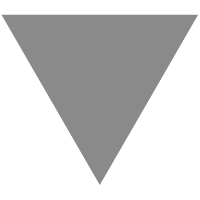 The Timeless Ducati Motorcycle That Still Turns Heads Today
source link: https://www.slashgear.com/1225829/the-timeless-ducati-motorcycle-that-still-turns-heads-today/
Go to the source link to view the article. You can view the picture content, updated content and better typesetting reading experience. If the link is broken, please click the button below to view the snapshot at that time.
The Timeless Ducati Motorcycle That Still Turns Heads Today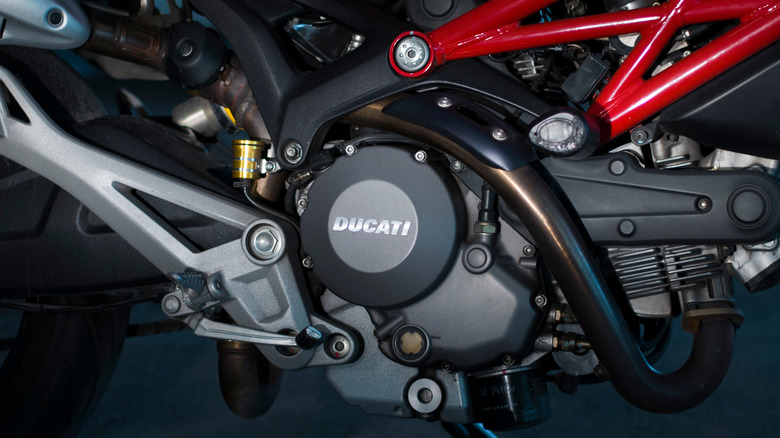 Jatuporn Chainiramitkul/Shutterstock
Ducati is one of the oldest and most storied players in the motorcycle marketplace. Per Ducati's own history, the superbike brand got its start in 1926, building radios under the catchy name "Società Scientifica Radio Brevetti Ducati." By 1949, the Bologna-based manufacturer had trimmed the brand name down to Ducati and released its first motorcycle, the Ducati 60, a major player in motorizing Italy after World War II.
Brand identity changes over the years, however. The Ducati 60 — with its 60cc engine and a frame so light riders routinely carried their bikes indoors to deter thieves — showed little promise of inspiring a line of lethally fast, top-market street bikes. The company's transition from utilitarian grocery-getters to the bleeding edge of street and track technology would take decades of work and dozens of models. Perhaps the bike that did the most to shape Ducati's modern brand identity was a product of the 1990s: the Ducati 900SS.
Writing its name in asphalt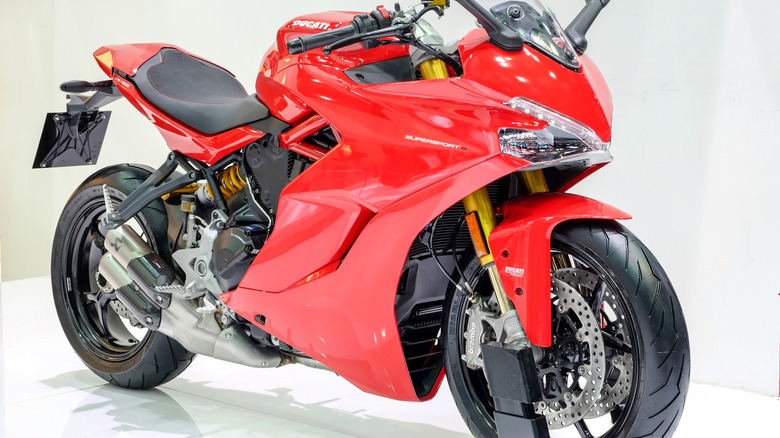 false/Shutterstock
Ducati has built a whole range of masterpieces over the years, but the 900SS was something special. When the 900SS hit the street, it represented both the end of an era and a new beginning for its manufacturer. The 900SS was the last air-cooled Ducati, as later engine designs would all be liquid-cooled. The 900SS also showed style flourishes that would inform Ducati for years to come, incorporating aerodynamic curves and breaking up the company's signature wraparound fairing to show off engine and frame.
Style can only do so much for a bike, however. A real classic has to perform: Per Cycle World, that's exactly what the 900SS did as of its 1991 release; inspiring new customers and defeating gearhead skepticism about European bikes in the heyday of American and Japanese market dominance. Light at 414 pounds and lethally fast with its 940cc Desmo Twin engine, the 900SS could hang with any motorcycle of its time and class.
Ironically, for all the success of the 900SS in its day, there's some mild friction about it now. Everyone still thinks it's a masterpiece, but there's some debate as to which model was the best of the brand. Nevertheless, the good news for motorheads is that both designs from 1991-1998 are widely available and reasonably priced on the used motorcycle market.
Next Up
The 10 Rarest Honda Motorcycles Ever Built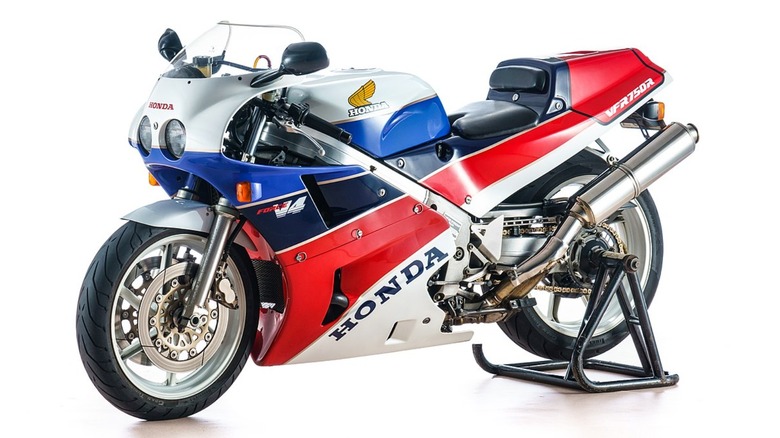 Honda RC30/Wikimedia Commons
The Honda motor company got started in 1948 and entered the U.S. in 1969. It's since made hundreds of interesting models of motorcycles. With a population rebuilding after a devastating war, the opportunities to build cheap transportation were abundant. Honda's first products manufactured were gasoline engines to be attached to bicycles, providing the cheapest and most basic form of transportation during the most difficult of times for post-war Japan. The company grew quickly from that point and became a global phenomenon when it introduced the Super Cub, which became the best-selling vehicle in the world.
Honda has been known for the impeccable reliability of its product in all the areas in which it operates from motorcycles to cars and outdoor power equipment. The company has also been responsible for numerous technological breakthroughs, such as its CVCC engines which met EPA automobile emissions requirements without the need for catalytic converters in the '70s. Innovation has also been integral to the development of its motorcycles. As a result, some of its innovative products did not catch on, which left some models leaving the market soon after they arrived. Some of these short-lived bikes have become rare as well as popular models from Honda's early history. Regardless of market success, here are 10 interesting examples of Honda motorcycles available to the public that has become rare and difficult to find today.
[Featured image by RC30 via Wikimedia Commons | Cropped and scaled | CC BY-SA 4.0]
Honda Rune
Everyonephoto Studio/Shutterstock
Honda began breaking its way into the cruiser market in the '80s, with each successive model becoming larger and more sophisticated. In 1995, according to Motorious, Honda presented a wild concept bike at the Tokyo Motor Show called Zodia. Unlike so many concepts that get watered down into ordinary vehicles or never go anywhere at all, Honda proceeded to develop this machine until it released the Rune as a genuine halo vehicle that would top the range of motorcycles and be priced significantly higher than anything else.
The Rune is a large, wide, and heavy cruiser built with flowing curves and uninterrupted lines with plenty of chrome and almost no exposed components. Honda chose the 1.8-liter flat-6 from the Goldwing over a v-twin due to the superior power and smoothness of the engine. However, the Rune utilized six throttle bodies instead of two for more power. The final product is a beautiful machine with advanced technology, including a unique suspension that offers excellent control while maintaining a smooth ride. Everywhere you look at a Rune, exquisite details and craftsmanship are found and it is still unlike any Honda made before or after.
The Rune sold new for nearly $30,000 in 2004, and this put it well out of the budget for most motorcycle buyers. Furthermore, estimates of Honda's cost to build the Rune run from $100,000 and up, meaning Honda lost $75,000 or more on each sale.
Honda Juno K
As previously mentioned, Honda started making engines for motorized cycles in 1948, but by 1954, the company had its first regular two-wheeler ready for public consumption, the Juno K. Its first bike was a scooter that was in every way a product of the times in which it was built. The specifications for this first attempt are quite good, with the engine being first a 4-stroke 198cc unit making 7 horsepower and later being revised to a 220cc unit making 9 horsepower (via Honda Classics). Power was sent to the rear wheel through a manual transmission and the Juno came with an electric start, a rarity for any motorcycle of the day. Although it was decently equipped, it was heavy and performed poorly, and it also suffered from having too many mechanical issues which caused Honda to pay out way too much in warranty claims.
Its styling was something else altogether. Honda was an early adopter of using fiber-reinforced plastic (aka fiberglass) to create the body of the Juno and that allowed the company to give it this distinctive jet age look, aping the style of the Cadillacs of the day with their huge tail fins and jet-inspired designs. The Juno only lasted a few years with Honda producing about 6,000 units in total (via Bike-urious) It was sold primarily domestically and can be difficult to find outside of Asia.
[Featured image by Rainmaker47 via Wikimedia Commons | Cropped and scaled | CC BY-SA 3.0]
Honda MVX 250
Honda has a long history of innovation in building excellent 4-stroke engines and only opting to build 2-strokes where nothing else would be a competitive product. However, that has never stopped the company from building a good 2-stroker, including some of its most successful dirt bikes. Given this history, it is surprising that the company would produce as late as 1983 an extremely interesting and unique 2-stroke road bike, the MVX250.
Although the trend toward 2-stroke engines in street bikes had mostly died in the '70s, some racing series still involved this kind of engine, and Honda has always worked hard to compete on the track. With that in mind, the company continued to develop track-focused engines for its competition machines, and at least one made its way to dealerships in Japan. The MVX250 is a 3-cylinder 2-stroke with the cylinders arranged in a V, with 2 forward and one facing rearward at 90 degrees (via Timeless 2 Wheels). It is a very cool machine clad with body panels that mimic the new CBR superbikes of the day, although it has a trio of expansion-chambered exhaust pipes jutting out from below the seat.
Despite its attractive appearance and relatively-good 40 horsepower, the odd 3-cylinder setup had a weakness that caused complete engine failure. Rather than engineer a solution, Honda axed the model after only a year.
[Featured image by Tuckerbag via Wikimedia Commons | Cropped and scaled | CC BY-SA 3.0]
Honda RC213V-S
The most sophisticated and fastest motorcycles are found on race tracks, tuned by a team of professionals, and ridden by riders of great skill. With the proliferation of superbikes for sale, some might think they are a street version of the bikes used for racing, but they are different and not nearly as powerful. In 2015, Honda made a special edition of its MotoGP bike ridden by championship rider Marc Marquez called the Honda RC213V-S.
The original MotoGP racer model is RC213V and the added "S" denotes the consumer version. It's powered by a 999cc V4 engine that produces 157 horsepower, although Honda offered a sport kit for track use only that bumped it up to 212 (per Bike Social). It is a fuel-injected bike with a 6-speed transmission and weighing 375 pounds, or just 353 with the sport kit. The power rating is already over the top but paired with such a lightweight chassis, it's evident how blisteringly fast this bike is.
The bikes went on sale as 2016 models for a hefty $184,000. Honda originally planned to sell 250 examples, but the total number built ended up being 213 (via New Atlas). It came from the multi-million dollar development of MotoGP racing, so it may have been a bargain in relative terms. Regardless, one sold at auction in Japan for $237,700, making it the most expensive motorcycle in history.
[Featured image by Alexander Migl via Wikimedia Commons | Cropped and scaled | CC BY-SA 4.0]
Honda Motocompo
You might think the technology of motorcycles and automobiles would crossover, but the Motocompo is not quite that. Many of Honda's domestic products are made to serve a population of citizens in tightly packed cities with narrow streets and almost nonexistent parking options, and kei cars, small cars with a maximum engine size of 660cc, are popular options for city dwellers. This is where the Motocompo fits in.
Honda introduced a new subcompact car in 1982 called the Honda City, although it was not a kei car due to its 1.2-liter engine. It is a cute and clever little car flush with boxy '80s style. Perhaps the most unique feature of this new little Honda is that it was offered with an accompanying folding scooter powered by a 49cc engine, the Motocompo. The car's rear hatch was designed with dimensions specifically to fit the Motocompo. The idea was that a driver could take the City to the outskirts of town where parking is easier to find and then take Motocompo from the hatch — it weighs just under 100 pounds — and ride it into the city, avoiding traffic, according to Silodrome.
Honda ended up selling 53,000 Motocompos, and the City is still in production today. The Motocompo is not rare by most standards, but production was primarily intended for the local market, making it a rare sight on most American streets.
[Featured image by lwao via Wikimedia Commons | Cropped and scaled | CC BY 2.0]
Honda Gyro
This rare Honda entry has three weels and could only tentatively be called a motorcycle. It is made in the same factory as other honda motorcycles and it uses a tried and true Honda 49cc 2-stroke engine. With the front end of a scooter trailed by an axle with two wheels in the rear, the front half tilts while the axle remains horizontal with the road.
Gyro is actually an acronym for Great Your Recreational Original. Honda first released it in Japan in 1982, with exports starting two years later (via Ride Apart). They have been built in several variants, but all of them with a 49cc engine and a top speed of 30 mph, with a tailwind, probably. The small engine is used around the world for transportation that offers certain licensing and tax incentives, and that is surely the main benefit of these weird little rides. Honda has also made a Gyro Canopy which has a roof and a decent size parcel shelf on the rear and is used commonly for pizza delivery in Japan. Today, Honda sells them with a new water-cooled 4-stroke engine.
With just a couple of years of sales in the U.S., they come up for sale occasionally, but if you set out to buy one, you may have a tough time landing a deal.
[Featured image by m-louis via Wikimedia Commons | Cropped and scaled | CC BY 2.0]
Honda RC30
Honda introduced its VFR series of superbikes in the '80s to an eager consumer base ready to buy up whatever could be built. While these new designs were showing up at dealers, Honda was busy dialing in machines on the track and using race experience to improve production models. However, for a select number of customers, Honda offered, in 1990, a bike that mirrored its track-winning bike in nearly every way, the Honda RC30.
The RC30, called VFR750R in Japan, was developed as a homologation special so Honda could build a new championship-winning race bike with a limited number offered to the public. It used the track-tested V4 engine setup with 748cc displacement and gear-driven camshafts (via Iconic Motorbike Auctions). With 118 horsepower and a dry weight of only 388 pounds, it was in the upper echelon of sport bikes for its day. On the exterior, a few things make the RC30 easily distinguished from regular production models — it came with round double headlights, a single seat, an unmistakable Honda livery in red, white, and blue, and the rear single swingarm, which made for easy wheel changes in the pits.
Honda exported only 316 units to the U.S. for a selling price of $15,000, which was about double the price of typical sport bikes (via Revzilla).
[Featured image by Rainmaker47 via Wikimedia Commons | Cropped and scaled | CC BY-SA 3.0]
Honda Dream CB50R
While Honda has been an innovative manufacturer developing some of the most sophisticated and cutting-edge technologies for its products, the company has never been wary of looking to the past for inspiration. The 1989 to 1990 GB500TT is a great example of Honda building a throwback machine as it is styled after the BSA bikes of that company's heyday. Similarly, Honda looked to its own history in 2004 when the company built an homage to one of its successful race bikes of the early '60s, the Honda Dream CB50R.
The CB50R is a modern replica of the 1962 RC110. In 1961, Honda was doing well in the 250cc and 125cc classes of racing. But when a new class of 50cc racing opened up, Honda had to join. However, Honda was dedicated to building 4-stroke engines only and its competitors used 2-stroke models. Instead of switching, Honda chose to engineer a 4-stroke model that could compete, and the RC110 was the result. Although the bike was well-engineered and produced up to 9 horsepower at 14,000 rpm, it only took one title in 1962 (via Silodrome).
The RC110 was an engineering accomplishment that still held a special place with Honda Racing, and the Dream CB50R was built as a modern track-only model limited to a total production of 440. Most of these are held by collectors, but recent sales of a few of them on Bring a Trailer generally end close to $10,000.
Honda NR750
While Honda had found great success in racing and production models with its V4 engine setup, the company continued to push the envelope with engineering and development. Just two years after releasing the limited-production RC30 superbike, it built and sold a limited number of NR750 models. The NR750 was an incredibly advanced machine for the time, but the feature that made it unique among all motorcycles ever built was inside the engine. Although it featured a V4 setup like Honda's other sport bikes, the pistons are oval shaped, allowing room to use eight valves per cylinder, or 32 in total.
The engine of the NR750 makes it one of a kind and a highly desirable machine today. The oval cylinders were originally developed by Honda for racing by making a 4-cylinder 4-stroke machine that could compete with the 2-stroke bikes that dominated the field, per Timeless 2 Wheels. This setup allowed for more valves, which meant higher compression and higher airflow were possible, ultimately leading to higher power output. Honda continued to use the oval pistons on the track throughout the '80s and, using the RC30 as a blueprint, offered a road-legal NR750 limited to just 300 copies.
The NR750 also featured electronic fuel injection, a digital screen, and carbon fiber bodywork. It was among the most complex machines available in its day and sold for a staggering $60,000 in 1992 dollars, per Cycle World.
Honda CB750 Four
Clari Massimiliano/Shutterstock
When Honda debuted its CB750 Four, it ushered in the era of 4-cylinder superbikes and set the standard for street bikes for the next decade. The CB750 showed up with a transverse-mounted 4-cylinder engine of large displacement for about half of what comparable bikes were selling for, according to Hemmings. Additionally, the Honda offered electric start, disc brakes, and Honda's bulletproof reliability. Not only would it be called a superbike, its usefulness for a variety of purposes led to the creation of the term Universal Japanese Motorcycle which would describe scorers of bikes from Japan throughout the '70s.
One of the most successful launches in history is hardly a recipe for a rare machine. However, while it was not technically available to the public, a hand-built 1968 prototype eventually made it into private hands. Honda built five prototypes for testing and to present at motorcycle shows in export markets. All of them were hand-crafted and parts from one would likely not fit another. One copy in candy gold that was presented in the Brighton Motorcycle Show in 1969 went through a series of owners in the U.K until it was included in an auction in 2018, where it sold for £161,000 (about $223,550). It was the most expensive motorcycle sale in history until the RC213V-S sold in 2021.